Shipping & Returns: Free Shipping. All The Time.
These make the EUNORAU UHVO the best in its class.
Front Suspension
Our suspension fork features 100mm of travel, compression adjustment. It effectively absorbs most of the jarring bumps and shocks, especially on complicated and rugged routes, reducing your tiredness and allowing you to ride faster.
Rear Suspension
The air rear suspension sets the Eunorau UHVO apart from the rest of our lineup, making it the ultimate eBike. Take on any trail with maximum comfort and control.
Removable Lithium-Ion Battery
Our removable battery system offers unmatched convenience for re-charging. With the twist of a key, your battery can be brought inside and set to charge. We offer a variety of battery capacity options, each providing a different amount of range.
500S LCD Display
This display has a white background and bright numerics and is easy to read even in direct sunlight. With waterproof connectors, it displays battery life, speed and distance, and has push mode - a feature to use in the circumstance of pushing the bike uphill.
350W Rear-Mounted Motor
A hub motor in the rear wheel can crank out a continuous 350 watts of power with the ability to ratchet things up to over 500 peak watts of power for hill climbs and quicker acceleration. This motor has 45 Newton meters of torque.
Mechanical Equipment
The 7-speed freewheel means you can shift to a larger cog for uphill riding and downshift to a smaller cog for high speed riding. In combination with the pedal-assist system, you can adjust the most suitable speed to complete your journey.
6V-60V LED Headlight
Light the path with the front light powered by the bike's battery. It can be turned on/off on the handlebar control pad. The headlight is bright enough to make night rides much safer and enjoyable.
Telescoping Seatpost
Equipped with an adjustable 300 mm maximum length telescoping seat post, riders who are between 5'1-6'2 tall are able to cruise comfortably in the VELO Saddle — a seat that is included with the seat post with great support for all riders.
180MM Hydraulic Disc Brakes
These brakes are sensitive, but provide efficient and ample force when braking. When riding in harsh conditions, they break swiftly and can be relied upon to ensure your trip safety.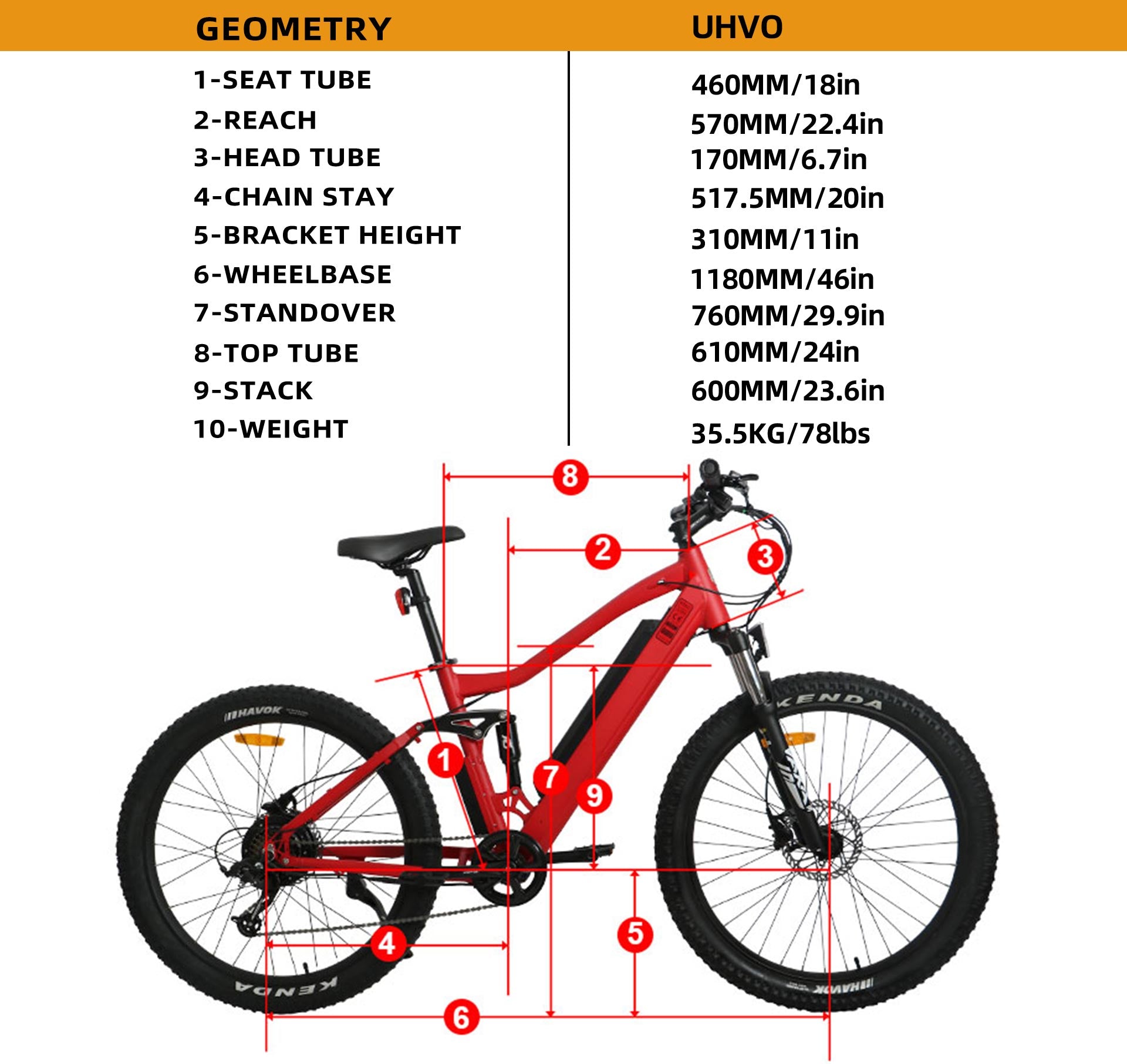 SPECIFICATION
Battery: 36V13Ah
Range: 30 Miles
Motor: 36V/350W Rear Geared Hub Motor
Total Payload Capacity: 375 lbs
Recommended Rider Heights: 5'6" ~ 6'2"
Maximum Speed: 20MPH
Charger: US standard 2.0 A smart charger
Controller: 36V / 16A
Display: 500S LCD display
Weight: 55lbs
Pedal Assist Intelligent: 0~5 level pedal assist
Box Dimensions: (cm) 172 L x 33 W x 83 H
COMPONENTS
Bike Rack & Fenders: Optional Upgrades – Add to Order
Tires: Kenda 27.5x 3.0 tires
Brake lever: Promax Disc Brakes Lever with motor cutoff switch
Rear Light: Taillight
Front Light: Integrated LED light
Brake:Promax 180MM Disc Brakes
Frame: Aluminum alloy 6061
Crank: 170mm forged alloy
Gearing: Shimano 14-28T
Handlebar: Comfort MTB Version,680mm Long
Front Fork: ZOOM SAMS 100mm Travel
Rear Shock: KS-A5,165mm Travel
Pedal: HIgh-Quality Folding Nylon Pedals
Freewheel: Shimano 7 speed gear shift system
Saddle: Comfort Velo Saddle with adjustable telescoping seat post
Tool: Included
Sprocket: 36T chain-wheel crank
Rims: 27.5 inch Black Alloy
Throttle: Thumb Throttle
*EUNORAU has the right without notice to the consumer to substitute components of at least equal quality for advertised EUNORAU ebike components in the event of the unavailability of such advertised components.
---